Student Photos/学生のアルバム
---
Japanese Speech Contest January 2003
click on any picture to enlarge.
The 15th Annual Japanese Language Speech Contest, November 8, 2003. 第(だい)15回日本語スピーチコンテスト, 2003年11月8日。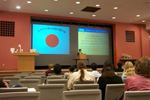 左-右 / Left to Right
写真 1:
左(ひだり:left)から,5位のブリッジスさん、4位のアッシュさん、3位のウィルソンさん、2位のウェンさん、ウェンさんのお母さん、片山先生
From left: William Bridges (5th), 4th prize -- JAMES ASH (4th), ANSEL WILSON (3rd), PHUONG NGUYEN (2nd), Nguyen-san's mother and Katayama-sensei
写真 2:
ウェンさんのスピーチ / speech by Phuong Nguyen
写真 3:
ファン・ウェンさん(右)と妹のチェン・ウェンさん(左)。二人ともテキサス大学で日本語を勉強しました。
Phuong Nguyen and her sister, Trang Nguyen. Both of them studied Japanese at UTAustin.