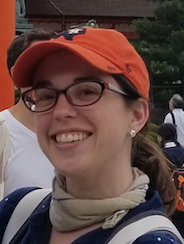 エリザベス北条(クラウス)
Elizabeth Hojo (Klaus)
Graduated Fall 2011
Japanese Major, UTeach
Current Position: Japanese Language Teacher at College Park High School

Ever since I was younger, I have always wanted to learn more about Japanese culture. I loved watching anime, reading manga, and drawing, so I felt that learning Japanese had quite a bit of merit for me. Initially I wanted to study out of state, but given the reputation of the Japanese program at UT, I immediately wanted to apply there.
Once I received my acceptance letter, I knew that I wanted to major in Japanese and minor in Korean. I originally loved languages, having studied Spanish for 4 years, and I really didn't have any other true desires to pursue in college beyond languages. However, my mother was doubtful I would have a job after graduation with this plan. I wanted to reassure her that I could be a translator and interpreter, and tried looking into these avenues, but nothing was really opening up for me. That's when I went to a fair and found out about the teacher certification offered by UTeach Liberal Arts. This program, in coordination with the UT's College of Education, would simultaneously train me to be a teacher in Texas while I was in college, so that by the time I graduate I would have my certification and could begin work. When the program first started, they only had certification for regular languages, but the year I heard about it the certification expanded to Japanese, Korean, Arabic, and Russian language certification. I knew this was how I could reassure my mom of a future job.
As a result, my sophomore year, I applied to this program and they enthusiastically accepted me as one of the few Japanese certification candidates. This program has its students take College of Education courses and then go to observe and teach at elementary, middle and high schools. Students also take specific courses with UT Liberal Arts teachers who are former K-12 teachers in your respective field. After experiencing all three schools, you get to choose the school you best fit, and then do a semester of student teaching. At first the program tried to pair me with schools that teach Japanese language, but that was only at the high school level in Austin. So, I tried teaching methods at 2nd grade reading and math and 6th grade world cultures classes for a semester each, then went to study abroad at Sophia University for one year. Upon my return from study abroad, I was paired with a high school that taught Japanese in Austin, where I observed for one semester then student taught for another semester.
For my student teaching, I was paired with David Shimizu, which was impactful to shape my teaching style. Shimizu-sensei taught me how to be an energetic teacher, how to connect with students and understand where the students are coming from to get better results. I often observed his class and would create lessons for his students, but soon he allowed me to give lessons to his small AP group. I could focus on their grammar skills and enhancing their knowledge with what I knew about the Japanese language and my experiences in Japan.
As I became more comfortable in this teacher role through the semester, I was contacted by UTeach Liberal Arts saying they would pay for me to receive AP teacher training. Once again, this program was investing in my knowledge and preparing me to be a viable asset on the job market by offering this. I immediately applied for this funding and decided to go to an AP Summer Institute to receive training. As you may have realized, Japanese as a teaching community is very small, and compared to Spanish or French, there were not many summer institutes offered. I didn't care about the place the training was, so much as the teacher I would be learning from. But, I also didn't know any of the teachers listed… So I did what seemed the next best thing and looked at where the teachers taught. It was then that I found Masumi Reade from The Woodlands High School, Texas offering a training in Las Vegas, that I immediately applied to attend. I was sure that by meeting here, I could find out about Japanese Language Teaching in Texas and learn about AP. The AP Summer Institute was really great - you get to see how the AP test is organized, and it really breaks down what the students should strive towards within the year. There was also a minor session on how to incorporate AP skills in lower level classes, how to encourage kanji competency and other topics. It was truly a valuable experience that fueled my interests in teaching.
The biggest life changing event there was meeting Masumi Reade. Throughout the entire training, Reade-sensei kept her eye out on me and immediately told me about a position opening in North Houston. Because of her connection, I was able to secure the job I currently have. She truly grew her program and cultivated it from the start of her career at The Woodlands and fostered real life connections to Japan with her students. I was able to go to Japan through the Kizuna Project with her students and tour Japan beyond Tokyo area. As the years passed I coordinated trips to Japan together with her for our students and my knowledge of Japanese geography grew. I also collaborated with her closely in extracurricular events like Japan Bowl and Culture Festival which improved my knowledge of Japanese culture. Through her connections, I was able to bring Japanese high school students to visit our school for a week's homestay. She showed me that extracurricular events like these, while timely to plan and execute, really fuel the students' interests in Japanese.
I am currently in my 7th year of teaching Japanese language, and it is a very fulfilling part of my life. As a non-native Japanese teacher, I can understand the students' struggles and approach them in a way that only I am able to. At times, I worry about whether I am able to teach them fully, but I think type of doubt that comes in any job position. By becoming a Japanese teacher, I never really lost my connection to UT's Japanese program. I often see my sensei's at foreign language teacher training events, and I get to know more teachers from other colleges and high schools in Texas as well. It is fun to see their passion for teaching Japanese language, and know them on a personal level beyond my college days.
I never thought I would be here teaching Japanese language in high school, but life has brought me here. I am able to keep up with my Japanese skills beyond graduation, and I have learned more about Japanese culture more than I did at UT. My advice to students interested in using their Japanese degree for a job related to Japan - keep your options open! There's many connections to Japan besides going to Japan to teach English. You can work as a teacher, work for a Japanese Society or work for a Japanese company in America. If you aren't able to find your dream job immediately, research and cast a wider net to find other options similar to your dream job, or somehow connected to your dream job (be it location, affiliate company, or others). Life surprises you, but if you hold on to your dreams to use Japanese in the future, you will find a way to do so!!