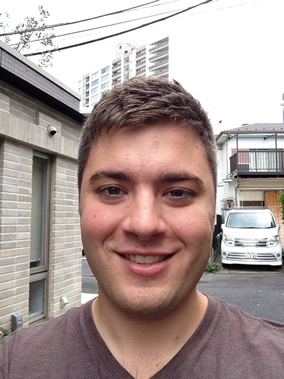 Finding a job in Japan
デイビッド・マックニール
David McNeill
My name is David McNeill, and I graduated from UT in Spring 2010 with majors in Business Honors, Finance and Japanese. I just started working on ASICS' digital marketing team in Tokyo, and thought I would write about my experience finding a job in Japan for other UT students that may want to work in Japan but do not have an interest in teaching English or doing translation work.

As for my background, I had studied Japanese for many years prior to attending UT and had dreams of working in Japan after graduating. However, I already knew that I had absolutely no interest in becoming an English teacher or translator, so I decided to study business alongside Japanese at UT in hopes of being able to find a more technical job in Japan after graduating. I attended the Boston Career Forum, an English / Japanese bilingual job fair, in the fall semesters of both my sophomore and junior years and applied for many internships at investment banks in Japan. I got to a few final round interviews but was ultimately not chosen for the positions.

Though disappointed after failing to find a job in Japan directly after college, I decided to take the advice of one of my bilingual interviewers and start my career in the US to gain additional skill sets that would make me an even more attractive candidate for jobs in Japan in the future. I first worked in investment banking at Wells Fargo Securities in Charlotte, NC and San Francisco, CA for two and a half years and then became a Product Manager at Kabam, a mobile gaming company, for a year. I was given the chance to work in China for a few months at Kabam's Beijing office in the winter of 2013, and that experience working in Asia made me want to try to look for job opportunities in Japan again.

I contacted some friends that I knew from Japanese language programs and from UT classes that were working in Japan and they connected me with some of their contacts, particularly recruiters focused on Japan-based positions. A few of the largest recruitment agencies in Japan are Wahl and Case, Robert Walters and Pacific Associates, and I spoke to a few recruiters at each of those firms. Though they liked my resume, the recruiters warned me about trying to find a position in Japan as a foreigner currently outside the country without direct experience living or working in Japan. I knew that my chances were slim, but I was determined to see if I could make it work.

Because I highlighted the fact that I had passed the Japanese Language Proficiency Test level N2, I was interviewed in full Japanese by a few Japanese mobile gaming companies. While those did not end up going anywhere, there were also a few opportunities that came up that did not require Japanese language proficiency. I think that these are the ones that non-native level Japanese speaking foreigners would do best to focus on finding. However, each of those positions required significant technical or industry knowledge, which is something that I imagine the average UT student that is only studying Japanese might have difficulty acquiring.

One of the opportunities that came up was the one that I ended up getting in ASICS' digital marketing team in Shibuya. I had to submit my resume, a full presentation assignment, and then interview with four people over Skype to get the role. In terms of my process, I was lucky that they had already hired people for this team from abroad purely over Skype interviews, so I could apply for the position remotely. Initially I did not think that I would have a great shot at getting the position given the fact that this English speaking position had applicants from around the world, and I did not have much direct marketing experience in my career yet. However, the skill sets I developed in my previous jobs made me interesting to the company, and my long history of Japanese language study and desire to live and work in Japan served as an additional push that helped me to finally get the job offer.

With that said, I think the best recommendations that I can provide for other students interested in working in Japan in roles other than teaching and translation are the following:
Attend events like the Boston Career Forum in order to be able to apply for jobs in Japan while still living in the US. I had the most luck by applying to positions online on the Career Forum website and getting in-person interviews set up prior to arriving.
Study more than just Japanese so that you can get hired for your business / technical acumen along with your understanding of the Japanese language and culture. The non-teaching positions in Japan require you to have a deeper knowledge base than the typical local Japanese candidates, so figure out how you can make yourself stand out from the native Japanese talent already living in Japan.
If you do not have success at first, do not get discouraged. Try to first develop some other skills that will make you successful in Japan later in your career.
Keep in touch with your contacts in Japan, and be sure to be on Japan-based recruiters' radars in the event that a good position pops up.
I hope that this overview of my Japanese job search process helps you on your way to starting a great career in Japan. If I can be of any help, please do not hesitate to reach out.

Best,
David McNeill
david.e.mcneillアットgmail.com (replace アット with @)

last modified 9/7/14