Technology Integration
E. William Doty Fine Arts Building Level 4 Renovation
Timeline
2018 – 2019
Project Features
Seminar Rooms

Plug-and-play auto detect on/off zero interface for uncompressed HD presentation
Studio Classrooms

Wrap-around multi-screen displays
Decentralized, flex furniture design with large writing surfaces
Wireless HD streaming for "bring your own device" presentation
Integrated lighting and shade control

AV Studio

Advanced audio production studio

Multitrack audio and HD video connections to classroom presentation system to facilitate instruction and live demonstration
DFA 4.126 Large Multi-projection Classroom

Three projector edge blended canvas – 28'x6′
7.1 surround sound
Professional USB audio interface
Dual laptop and iMac inputs
Best-in-class optical disc player with 4K hardware scaling
Environmental controls
22″ Touchscreen user interface with live video preview
Challenge
Design a set of spaces to facilitate hands-on, project-based learning with creative technologies to meet growing industry demand for skilled graduates trained in these areas.
Solution
Created active learning classrooms that accommodated mobile devices with decentralized presentation, intuitive plug-and-play huddle spaces, and an advanced multi-projection classroom that provided the best platform on campus for media technology software instruction and presentation.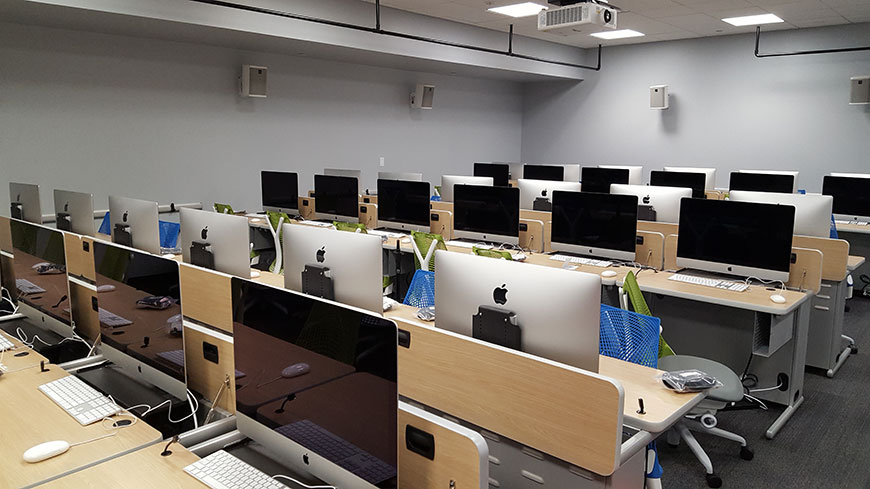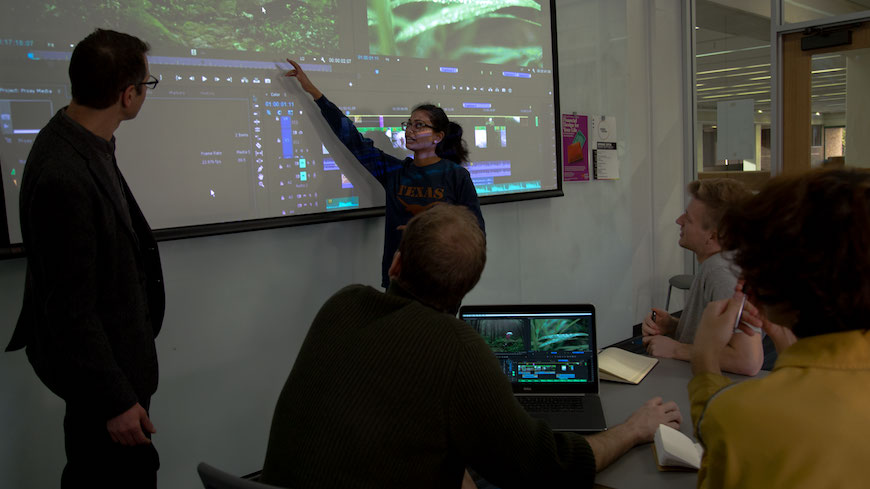 The Department of Arts and Entertainment Technologies in the College of Fine Arts is designed to facilitate the creation of new works and inventions that explore, expand, and transform the arts and technology.
The centerpiece of the program is the Bachelor of Science degree in Arts and Entertainment Technologies, an interdisciplinary major where students will learn in an environment that emphasizes hands-on, project-based learning with creative technologies.
With over fifty classes in the catalog, coursework for this degree plan encompasses a large breadth of interdisciplinary media production.
From the earliest design phases, the Liberal Arts ITS Technology Projects staff helped guide the process to ensure all critical infrastructure was in place to meet the complex set of requirements for computer animation, gaming, mobile applications, music, audio production, theatrical design, and arts/entertainment management.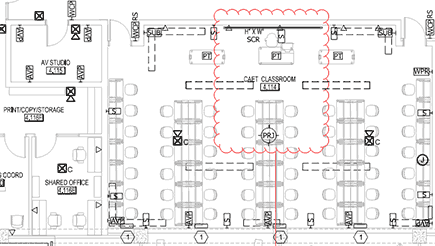 Our install team worked more than one thousand hours installing equipment, configuring networks, and pulling and terminating over three miles of wire throughout the facility, ensuring – even with labor and material disruptions from Hurricane Harvey – that the space was delivered on-time for the Fall 2017 semester.
In the large multi-projection classroom, Technology Projects Staff supervised one of our most complex commissioning processes to date. This classroom is home to three edge-blended projectors which provide faculty with a thirty-foot wide projection screen to review projects and demonstrate complex software. Driving all of this is a powerful, intuitive user interface, built in partnership with faculty and end-users, designed to unlock the power of a broadcast-quality multi-window processor and advanced audio digital signal processors. This gives the DAET faculty the premier space on campus for media instruction and presentation.