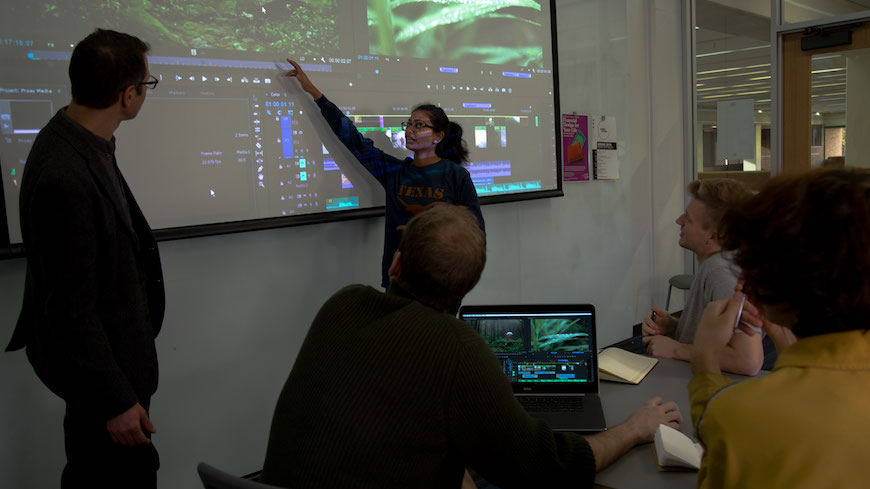 Technology Integration
The Technology Integration team provides complete integrated technology solutions to over fifty different Colleges, Schools, and units across campus.
We lead building projects that span from renovations to new buildings and configuring spaces for new and innovative research and academic uses.
From basic remodels to large multi-phase capital projects spanning years, like the Dell Medical School, we work closely with owners, project management, and architectural teams, shepherding complex projects through consultation, design, purchasing, construction, installation, and commissioning.
Our staff also partners with end users and faculty to develop custom control system programming, interfaces, training, and documentation for over six hundred presentation and collaboration systems across campus, ensuring the successful use of technology to deliver over one hundred and fifty thousand hours of instruction a semester.
Contact
Ian R Campbell
Director of Technology Integration
ian.campbell@austin.utexas.edu
Our Clients Include units who provide institutional project management services such as PMCS, CPC and ITS to ensure successful outcomes for a wide range of university clients
Past Projects
RLP Building smart classrooms are among the best classrooms on campus

Liberal Arts Instructional Technology Services installed these smart classrooms with special attention to acoustics, sightlines, writing surfaces, seating, and lighting. With more than nine miles of cabling, this centralized system is readily adaptable to technological upgrades, saving the college both time and money.

E. William Doty Fine Arts Building Level 4 Renovation

Timeline 2018 – 2019 Project Features Seminar Rooms Plug-and-play auto detect on/off zero interface for uncompressed HD presentation Studio Classrooms Wrap-around multi-screen displays Decentralized, flex furniture design with large writing surfaces Wireless HD streaming for "bring your own device" presentation Integrated lighting and shade control AV Studio Advanced audio production studio Multitrack audio and HD…

Nursing Skills Center Upgrades

Project Features High Definition three-camera array with programmable presets Intuitive, easy-to-use mobile control interface for skills test setup Broadcast quality multi-window video processing Dedicated computer with versatile multi-input open source recording software Unlimited FERPA-compliant cloud storage for student video archive and distribution Challenge Create a student-centered video testing and peer-to-peer mentoring facility for faculty-free nursing…