Technology Integration
Nursing Skills Center Upgrades
Project Features
High Definition three-camera array with programmable presets
Intuitive, easy-to-use mobile control interface for skills test setup
Broadcast quality multi-window video processing
Dedicated computer with versatile multi-input open source recording software
Unlimited FERPA-compliant cloud storage for student video archive and distribution
Challenge
Create a student-centered video testing and peer-to-peer mentoring facility for faculty-free nursing skills performance exams and nursing pedagogy research that is simple to use, giving students total control of their peer team performance testing environment and content management.
Solution
Leveraged existing simulation lab infrastructure, reconfigured control system programming, and installed three new stand-alone recording centers, facilitating over five hundred hours of video-skills testing for over one hundred thirty students per semester.
Nursing skills education provides many challenges for students and faculty. In addition to the traditional technical knowledge bases taught in classrooms, nursing students have a large and unique skills-based component. which include high stakes skills such as medication administration and catheter insertion.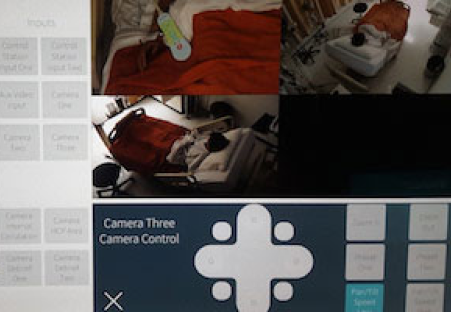 The process of teaching these various skills requires an integration of the theoretical classroom content and "hands-on" skill development to ensure correct application in the patient-care management setting.
Dr. Leigh Goldstein, Director of the School of Nursing Learning Enhancement and Academic Progress Center enlisted Liberal Arts ITS Technology Projects to help design an innovative student-centered video recording solution. This solution enables nursing students to learn critical psychomotor, physical assessment, and critical thinking skills necessary for clinical performance.
Technology Projects staff worked closely with Dr. Goldstein to understand the organization and needs of a nursing skills testing center, making various adjustments throughout the construction process to best meet these requirements while executing a complex commissioning process in a compressed timeline.
Our installation teams built three stand-alone recording stations, set up a dozen HD cameras, made substantial updates/upgrades to the existing Nursing Simulation Center control system programming, and created seven new mobile control panels for tech staff, whilst closely supervising the provisioning of recording workstations. The commissioning process was closed out by leading four separate training/user acceptance sessions for School of Nursing faculty, staff, students, and student proctors.